Red Robin: A basketful of burgers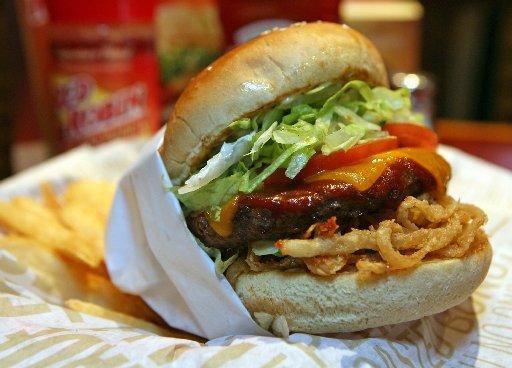 Red Robin attracts many customers with their famous signature burgers. It is a high energy environment with delicious food and friendly staff. This restaurant is always packed with customers for good reason.
Red Robin offers a wide range of burgers. Customers have the capability to tell the waiter or waitress specifically what they want on their burger. Similar to Fuddruckers, another signature burger restaurant, Red Robin allows their customers to customize their order.
Bottomless fries also come along with the burger, making it more appealing than any other restaurant. The consumer also has the option to season up their steak fries if they seem too bland.
Red Robin is known for their great-tasting burgers.  One of their most popular burgers is called the Whiskey River BBQ burger. This burger is stacked with crispy onion rings, chopped lettuce, tomatoes, mayo, bourbon BBQ sauce, and cheddar cheese. The Whiskey River burger is packed with different flavors which gives its own unique taste to the customers.
Beside the ultimate burgers, Red Robin doesn't have much of a variety of different food options. If a customer wishes to choose an option other than a burger they are limited to the remaining menu, which is bland compared to the signature burgers.
If someone is looking for a reasonably priced restaurant that provides the most quantity for their money, then Red Robin is the place to go. Each burger is priced at around $10. Each entree comes with the customer's choice of sides, some of which are bottomless, such as their steak fries. What makes the restaurant popular is their humongous portions and their bottomless fries.
The restaurant is packed on Friday and weekend nights. If someone were to go there on one of those nights be prepared to wait at least 15 minutes before sitting down. Once being seated and finished ordering, be prepared to wait another 20 to 25 minutes for your food to be ready because the waiters, waitresses, and chefs will all be too busy fulfilling the other needs of customers.
Red Robin is a great restaurant when it comes to quantity and quality. The restaurant welcomes customers with an energetic vibe from their employees, and also has the juiciest and tastiest burgers for a fair price. At the end of the day, Red Robin is a stand out among the other mediocre competitors in the area.