The Classic Chapstick: Becoming more convenient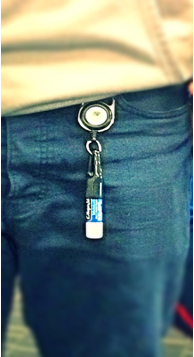 Blistering winds and frigid conditions often cause chapped lips, the dreaded affliction of winter. But how would someone ever relieve the dryness without having chapstick in a convenient spot on them? A new trend is starting amongst teens, who are now keeping chapstick attached to the belt loop on their shorts or pants.
In terms of accessibility of chapstick, teens at Brookfield Central High School have started an unusual trend. It involves a chapstick that is attached to a belt loop, and can be retracted up to the person's lips at any convenient time in the day.
"I started keeping chapstick on my belt loop because when I would put it in my pocket it would become gooey and slimy, losing its defined structure. Now it is very convenient to have chapstick that stays intact as well as retracts up to my lips at anytime," says Max Webb ('15), a student who has also jumped onto the chapstick bandwagon.
Chapstick is a must-have accessory when it comes to chapped lips. But sometimes people pass up the product due to its inaccessibility throughout their day.
"I lose my chapstick all the time, and when I have it clipped on my belt loop I have the assurance that it will always be with me," said Keaton Pfeifer ('15). "It's also very convenient because it can also be used to hold other small accessories such as a lanyard or keys."
As the trend at Brookfield Central High School begins to emerge throughout a small group of guys, others at the school begin to look and judge at the different and unique trend.
"When I first got the chapstick holder a lot of people said they hated it. But eventually it must of grew on them because more and more people began to ask me for one, or where they could get one," said Riley Keays, a student at Brookfield Central. "They think it's weird because it's not popular, or they may just be jealous."
The trend at Brookfield Central is becoming apparent to most of the students. However, the trend will never become nationwide unless the willingness of students to join in on the unusual trend begins to expand.
"I will always wear my chapstick on my belt loop, even if others judge me. It is in a much more convenient spot, and I know I will never lose it," said Keays. "Others may believe that it is unfashionable or looks unusual, but I think it's different and that's what sets me, and the others who do the trend, apart from everybody else."