Sharknado 3: Oh Hell No!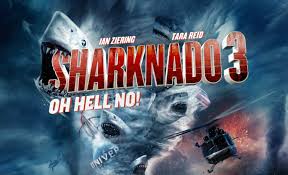 Sharknado 3: Oh Hell No! was by far the best Sharknado movie made, even though it had some minor flaws.  When the first film of the trilogy was first released in 2013, it quickly became popular. People were amused by the concept of ravenous sharks being lifted out of the ocean and into the air by the force of a tornado. Flying sharks wreaked havoc among the people of Los Angeles, who happened to get the first wave of the series. This sci-fi comedy and action movie quickly became popular, leading to sequels.
    The comedic film is action packed all the way, and begins with the main character  Fin Shepard (Ian Ziering) racing against an immediate sharknado attack in Washington D.C. He then saved his pregnant wife April Wexier (Tara Reid), daughter Claudia (Ryan Newman) and mother-in-law May (Bo Derek) who were in danger of being attacked by a sharknado in Orlando. Some of the movie's major flaws are that the same plot was recycled over and over. Even though it's not exactly the same plot as the first two movies, it still consists of the same main ideas. First, the sharknados attack Los Angeles, then New York, and finally the entire East Coast. As the series progresses, the sharknado attacks only get bigger and stronger.
     Along the way, Shepard meets old friend Nova Clarke (Cassie Scerbo) and Lucas Stevens (Frankie Muniz), who save him in an attack he encounters. Together, they plot to get a military fighter jet and drop bombs of the sharknados in an attempt to stop the furious tornado, which fails. As the movie progresses, it becomes evident that the sharknados could turn into massive sharkicanes – shark hurricanes. Fin turns to his dad, Gil Shepard to help him launch a laser beam from outer space, with Gil in the rocket, to stop to sharkicane. However, for whatever reason, Fin and the pregnant April are dragged along into outerspace, where the sharkicane is defeated and Gil dies. Falling towards Earth, and separated from the space shuttle, Fin and April survive the atmospheric pressure from within a shark. The movie ends abruptly in a dramatic cliffhanger, leaving the audience to wonder whether April will live or die, as part of the rocket is falling towards her. This will be disclosed in the next sequel, Lavalantula Sharknado 4.
    Overall, the film includes all of the things that the sharks do to people, particularly eating them. The attacks are repetitive, and the only way to survive one is to kill all of the sharks or hide. Also, there is no explanation for why the sharknados continue to happen. Even though this movie is a sci-fi action movie, it should include more realistic reasons for the sharkados. Despite the overall disastrous acting and predictable plotline, Sharknado 3: Oh Hell No! still proves to be somewhat entertaining.