Zootopia entices audiences with purposeful themes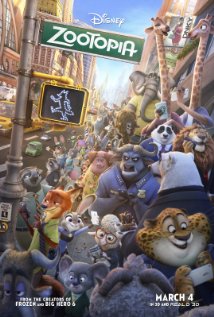 Replete with universal humor and stunning visuals, Disney's Zootopia enchanted audiences of all ages. The story starts out with bunny, Judy Hopps (voiced by Ginnifer Goodwin), yearning to leave her small town of Bunnyburrow in hopes of becoming a police officer at the fantastical Zootopia, a thriving metropolis where animals live together in harmony. She graduates from the police academy at the top of her class, becoming the first bunny police officer in history. She encounters many struggles along the way, but ultimately proves herself by breaking a case wide open, bringing order and peace to Zootopia.
While the idea that you can be anything is largely prevalent throughout the film, there are much more complex ideas as well, such as the use of different animal species to portray prejudice in today's world. Large animals such as bison, elephants and hippos, along with predators like lions and tigers, are in the minority but get some of the best jobs; they are considered stronger and "better." Police Chief Bogo (voiced by Idris Elba) believes Judy is just a result of the Mammal Inclusion Initiative, a sort of affirmative action for the short and fluffy woodland creatures, even after she graduates at the top of the police academy. These ideas may not be crystal clear to children, but they can certainly understand the unfairness and the preconceived notions that all of the animals face, while older audiences can find the parallels between our world and that of Zootopia. The symbolism in this film is certainly meaningful and can be extremely interesting to decode.
The use of these themes is revolutionary in children's movies. While the characters and spectacular animation are to be commended, nothing can quite measure up to the effect of such worldly ideas. Hopefully, this film can serve as an inspiration to other directors to include messages that are imperative for children to understand in today's world.