Boys' Basketball wins first state championship for Brookfield Central
Hundreds of fans gathered at the Kohl Center on March 16 to cheer on the boys basketball team at the Division 1 State Basketball Championship. The atmosphere buzzed with excitement as Brookfield Central went head-to-head on the court against Sun Prairie High School. Finally, after an intense game of impressive talent and sportsmanship, the Lancers claimed the title of state champions with a final score of 69-52.
Emotions were running high for everyone, both on and off the court. "Our main concern was that the boys were able to settle in and handle the emotions of the championship game," reflected boys basketball head coach Dan Wandrey. Cole Nau ('19) described the nerves he felt as the game began: "Obviously, going out there and playing at state is going to get you nervous. But I was confident that our team had what we needed and prepared well enough," he continued.
Even with all of the distractions, David Joplin ('21) noted that he and his teammates were laser-focused. "We knew we had a job to do, so we wasted no time and took control of the game," he says. "As those early moments went by," Wandrey added, "it was obvious that our boys were dialed in and ready to play."
Andrew Rohde ('22) shared the thoughts that raced through his head during the initial moments of the game: "I was thankful to be able to be in the position me and the team were in. Lots of people don't get to experience that feeling of playing in the Kohl center." Rohde caught attention as the only freshman on the varsity team. He dedicated his success in part to his siblings, who "made [him] understand how much time and dedication you need to play this game."
The team made BC history this year by becoming the first boys' basketball team to bring home a WIAA State Championship title. Recounting the happiness that came in the moment when the buzzer sounded, Joplin stated that he felt relieved that their goal was finally achieved. "After that game," he said, "it was hard not to find a smile on our faces."
Nau remarked on the pride that he and his teammates felt that day, saying, "It's really special to know that you're the first team to bring that gold ball back for the sport of basketball." In addition, Rohde asserted that he felt honored to be part of school history. "It is something I will never forget, with the best teammates I could ask for," he said.
The victory was undeniably meaningful to everyone, but it was especially so for the team's head coach. "To see [the team's] hard work, determination and togetherness be rewarded with a state championship was an amazing feeling," stated Wandrey. He accredited the win to the resolve of each member: "We faced our fair share of adversity throughout the season, but it never rattled our players."
"
As those early moments went by, it was obvious that our boys were dialed in and ready to play."
— Dan Wandrey
A major part of the team's success is attributed to the bond between the players. "The boys believed in themselves and believed in each other from the first day of the season. That unselfish attitude was on display as we made our way through the playoffs," said Wandrey. The players seemed to agree. Joplin elaborated on the cohesion of the team, noting that "…the chemistry made our team successful because each game we got better and better at learning each other and how we want to play." Furthermore, Nau stated, "I'd say the bonds that the guys created off the court [made our team successful]…we had a lot of easy guys to talk to, everyone was very outgoing and I thought that really brought our team together."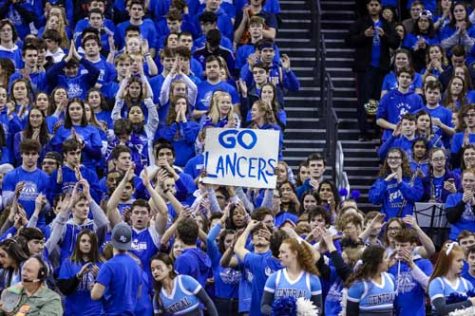 Aside from a trophy and a state champion title, the players took home with them life lessons that don't just apply to their time on the basketball court. Nau credited Coach Wandrey with teaching him to stay positive and keep pushing through. "He was very positive with us and he kept saying to me, 'You can do this'…so I think that's something that can be helpful with anything in life." Joplin reflected on his growth throughout the entire season. "This season was filled with pressure and adversity," he stated, "and once we overcame it, our confidence was through the roof."
It is, without a doubt, the perseverance and grit of each and every player that ultimately drove Brookfield Central to become WIAA State Champions. A huge congratulations to the boys basketball team!