Local communities greatly affected by Coronavirus
As the Coronavirus expands, Wisconsin finds itself having to take more precautions.
Brookfield resident JingMing Huang was visiting family just outside of Wuhan when the lockdown happened.
He had arrived in Shanghai early January for a business trip and was planning to visit his family, who lived just outside Wuhan before he returned to the U.S.
"It looked like the flights between Shanghai and the U.S. were still flying, but with all the transportation shut down, I could not get transportation to go to the train station to go to Shanghai," Huang said. He was trapped in the epicenter of the coronavirus.
Huang had booked his return flight to the U.S. for January 27 before he flew to China, but in the midst of the Wuhan lockdown, he couldn't fulfill his original plan. The U.S. Embassy was sending planes to take U.S. citizens in Wuhan back, though, and Huang was able to book a seat on the second one. The plane flew him to Travis Air Force Base (located in California) February 3, where he would spend the next two weeks in quarantine before being allowed to return home.
According to the WHO (World Health Organization), the number of confirmed coronavirus cases worldwide has surpassed 100,000 and the CDC reports that 423 confirmed/suspected cases have sprung up in the U.S., two of which are in Wisconsin. The death rate for the Coronavirus is surprisingly low (3%), with only ones with weak immune systems/other bodily functions perishing. While the U.S. has gotten off relatively light compared to Italy and Japan, the Milwaukee area's local Chinese community has taken extra precautions to keep everyone safe.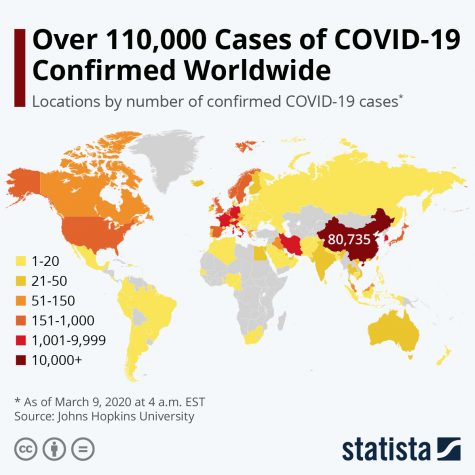 "We were panicked, and we worried, we worried for our friends in China, we worried about our families in China, and we worried about what could happen in China down the road, like how much time it's gonna take and we worried about how serious it was going to be," said JianGuo Sun, president of the Milwaukee Chinese Community Center (MCCC) and member of the Elmbrook school board. The timing of the coronavirus couldn't have been worse, as the outbreak coincided with the Chinese community's New Year celebrations. After much deliberation, MCCC's board of directors decided to cancel the party.
"We had planned for it for a long time, so many performances, catering food for 500 people," Sun said. "There were two reasons we canceled it: one is that we worried if one of the 500 people just came from China. The second reason we canceled is that we understand many of us have family and relatives in Wuhan. The time didn't feel right for us to celebrate. There was no mood to celebrate."
That was the Chinese community's first reaction to the outbreak. As the situation worsened, a fundraiser was set up so that medical supplies could be sent to Hubei province (it raised over $7,000 in two weeks). The Milwaukee Modern Chinese School (part of MCCC), which meets once a week on Sundays in Milwaukee, had to transition to video-chat lessons in an effort to decrease person-to-person interaction.
Max Hong, BA '23, is one of the 300 students that attends the school. "[Online classes are very necessary] as it is a bunch of Chinese people that almost certainly has someone who came back from China. [It isn't very effective] because it is an online class, and getting the right materials is very difficult, but I do think it is the best way they could have and should have done it, " Hong said. "[The Coronavirus is] going to spread eventually, no doubt about that," he said. "The government is not doing enough to be truly effective. Washington state should be shut down already or at least in partial quarantine, and everyone else with strict orders to stay inside."
While daily reports of people infected with the coronavirus have declined in China, the numbers are rising rapidly around the world. The situation seems to swing from one extreme to another in a matter of hours, and people aren't sure how to feel about it.
"The mood changes every day," as Sun put it. "We hear a lot of different voices from a lot of different channels and sometimes we are confused. We are making progress, but I think the Chinese community should not worry. We heard the sufferings of our friends in China but there aren't many cases here, so I keep telling people to not worry."
With cases of Coronavirus growing in the U.S., the best preventative measures to be taken are washing your hands after going to the bathroom/before eating, covering your cough, keeping distance from people (now officially deemed 'social distancing')showing symptoms of sickness, etc. If you practice good health every day, your chances of contracting diseases are greatly reduced.
To enforce the concept of social distancing nearly all higher education facilities in Wisconsin have moved to online classes for the semester, most notably UW – Madison. In addition to this, all school districts in the state have been closed, instead choosing to instruct students through their devices for at least 3 weeks. These closings are all in compliance with Governor Tony Evers's declaration of a public health emergency.