Central's Fine Arts Alliance visits the MIAD campus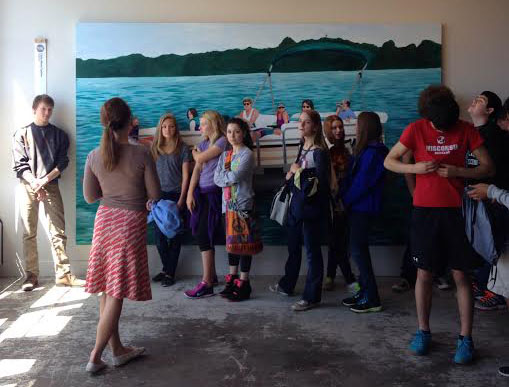 The Central Fine Arts Alliance (CFAA), a lesser-known organization at Brookfield Central High School led by Mr. Tommy Lueck, has been actively exploring different areas of art over the past few months. The group is comprised primarily of upperclassmen who are actively involved in fine arts programs at Central, including the drama, music, and visual arts, as well as many yearbook students for their work with graphic design and photography. Throughout the year, the CFAA meets between the gyms for a bagel breakfast before travelling around Milwaukee to expand their art background and form bonds with members of different fine-arts groups.
The CFAA typically takes three full-day field trips throughout the school year, the first of this year being a workshop with the Keigwin and Company dancers at the Sharon Lynn Wilson Center. Directed by Larry Keigwin and based in New York City, the contemporary dance company consists of eight talented dancers, including Central graduate Emily Schoen, who was also a part of the CFAA during her time at BCHS. After watching a performance by the Keigwin and Company dancers, Schoen and her colleague Benjamin Freedman taught a contemporary dance workshop exclusively for the BC students, allowing students of various fine arts backgrounds to discover a new and unique style of movement.
Most recently, the group traveled to Milwaukee's Historic Third Ward to visit The Milwaukee Institute of Art and Design (MIAD) Tuesday April 23. They began with an official tour of the main MIAD building, consisting of four floors filled with studio spaces, classrooms, and art displays. The CFAA was then given the opportunity to explore the exclusive Senior Art Gallery, where the MIAD seniors had displayed their final art theses for future employers to view and critique. The Central students were split into groups to analyze each category of art, which they then presented to the group.
"Being able to look around and see all the work that the seniors had done made me want to come to the school and improve my art skills so I could have a piece displayed like one of theirs," said Maya Guadagni ('16), a yearbook editor and visual art student.
After their time at MIAD, the group explored the Third Ward, met for a pizza lunch, and relaxed on the dock of the Milwaukee River. They will be taking their third and final field trip to view the Milwaukee Repertory Theatre's production of Peter and the Starcatcher on May 21st.
"CFAA is fabulous because I get to learn and try out different art forms that I might not have gotten to try otherwise," Guadagni said.  "Being able to be with so many students that appreciate the fine arts as much as me is a great way to spend my time."