New life to the old gym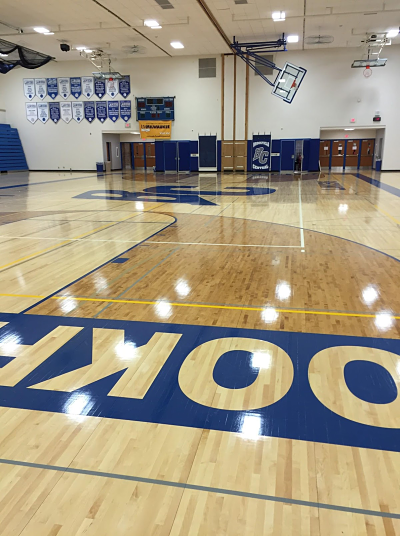 For a long time the auxiliary gym at Brookfield Central was thought of as second best, almost forgotten about because of the old hardwood floors and the cracked basketball rims. However, this summer, due to water damage, administration and the athletic department brought new life back to the old gym. On Aug. 15, a leak in the HVA system caused a small corner of the floor in the auxiliary gym to experience water damage, which nobody thought was that big of a deal. Although, as administration and the athletic department continued to investigate, they discovered it would not be that easy of a fix.
"At first we thought, fix this little corner and we'll be good," said principal Mr. Gruetzmacher, "but overtime we saw that the water would stay under the floor and spread all over."
Right away the athletic department got to work picking out a new design for the floor. The new design would include stained hardwood on the inside of the three point line, "Lancers" painted in blue on both sidelines and a large BC logo at center court to face the home bleachers.
"In the end, for the floor itself, it took about six weeks. What adds to it too is the amount of time you had to stay off the floor after they put the coating and varnish on it," said Gruetzmacher.
Although, the installation of the new floor did not go as smoothly as planned. Administration had to fire the first company that started fixing the floor and hire a different company to complete it.
"I was really surprised at how fast they went at the end," explained Gruetzmacher.
The new floor has not only brought excitement to students, but also to gym teachers and athletes here at Brookfield Central.
"I'm excited to get the opportunity to play a game in the new atmosphere," said Sam Rhode, a junior guard on the basketball team.
Also, at the beginning of the year, gym teachers had to change what they had planned in their classes because of the lack of gym space.
"We struggled the first term losing a whole activity space. Especially in blocks where we had 3 classes," said Mr. Nellis, "now, with the space and having shape-up that meets more in the wrestling room, we have no issues getting in all of our units in the right places."
There is more to look forward to and possibly new additions coming to the old gym in the future that would make it even nicer than it is now.
"Down the road, we are looking at new bleachers and I would like to repaint the whole gym," said Gruetzmacher.
With all the upgrades made to the old gym, the administration and the athletic department have brought new life to a place that was once forgotten.