Central's Red Kettle club spreads holiday service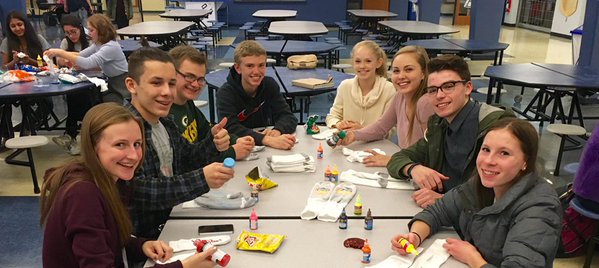 Though the BC Red Kettle club has only been operating over the last year, numerous families in the Milwaukee area have received aid from BC students. The club works with the Salvation Army, which aims to benefit the lives of people in need.
The Salvation Army supports families trying to stay together during difficult times, especially when the families may be financially devastated or homeless. The Red Kettle club specifically helps at the Emergency Lodge in Milwaukee by assembling food and packages. Members also participate in bell ringing, one of the main sources of donations for the organization.
"The smiles that you see on kids' faces really make the efforts worth it," said Cassi Jehly ('16), a member of the executive board.
Over Christmas the members of the Red Kettle club wrote over five hundred Christmas cards for families, and also organized a joint operation with the BC Key club to assemble slipper socks. Making the slipper socks was a huge success; members from both clubs engaged in using puffy paint to create skid-free socks, sending in over five hundred pairs of socks and spreading service over the holidays.
According to Jehly, Central's Red Kettle club "has a fun atmosphere, and it's smaller so you get to know the people in the club."
The Red Kettle club helps students recognize the lives of the less fortunate and creates opportunities for students to contribute purposeful service to the community.