Three BC Seniors Awarded Herb Kohl Scholarships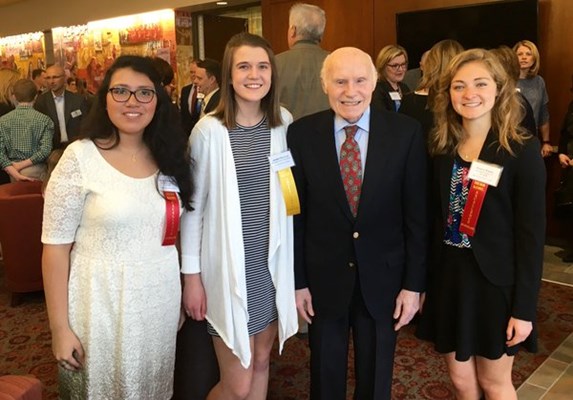 On April 9th, 2016, Erica Calvache ('16), Emma Kumer ('16), and Jordan Seymour ('16) were awarded Herb Kohl Scholarships for their excellence and initiative throughout high school. This year a total of 184 high school seniors received the Herb Kohl Scholarship. Both Erica and Emma received the Excellence Scholarship, awarded for their academic potential, leadership, citizenship, and community service. Jordan was the recipient of the Initiative Scholarship, awarded for her high motivation to achieve, overcome obstacles, and show academic potential.
Prior to the awards luncheon, each senior was under the impression that they would receive a $3000 scholarship for their future college careers, so they were very surprised when they were informed that they would receive a $5000 scholarship instead.
Scholar Emma Kumer was thrilled to learn about the increased scholarship amount when she commented, "I felt like I was on Oprah, everyone was screaming and parents were pulling out their phones." The luncheon was a great celebration with 36 student scholars being honored for their high school careers.
Erica Calvache said, "My favorite part of the luncheon was hearing about the accomplishments of Wisconsin's students and teachers. It gives me great hope for both the future of education and the future of our state." Congratulations to the three scholarship recipients, it will be wonderful to see what they achieve in future!