Elizabeth Bews ('11) named Fulbright fellow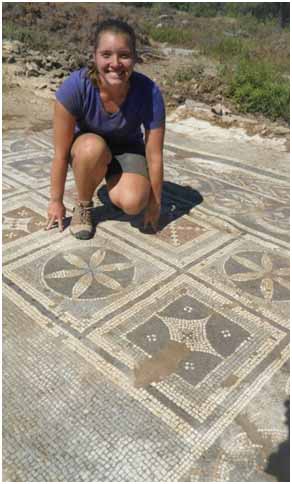 Brookfield Central alum Elizabeth Bews ('11) was recently recently named a Fulbright fellow in Archaeology. The Fulbright U.S. Student Program provides grants to students and young professionals to pursue self-designed study or research projects or to undertake English Teaching Assistant Programs. 1,900 grants are awarded annually, and fulbrighters operate in 140 countries worldwide.
Bews will use her grant by spending a year in Southern Bulgaria to research the archaeological record of the Middle Strymon River Valley. Before traveling there, she will engross herself in a six-week intensive Bulgarian language institute at the University of Pittsburgh.
"Bulgaria, archaeologically speaking, is what Greece and Rome were 200 years ago. And while it is a more difficult area to do research in for various reasons, it's also vital that we understand the region's role in antiquity," Bews said.
Bews credits her love for travel, languages, and culture to Madame Mann's French courses and especially to a study abroad trip to France she had taken after her senior year. "Ever since that trip I am constantly yearning to travel to far flung places, learn new languages, and experience the true culture of every country I visit."
Bews first fell in love with archaeology at St. Olaf College. Recognizing her curiosity about the archaeological aspect of history, one of her professor's invited her to attend the university's archaeological field school in Southern Turkey. She quickly fell in love with the field.
"It was the perfect opportunity to combine my interests in art, history, foreign languages etc. and constantly kept me interested," said Bews.
She has spent the past three summers in Southern Turkey, serving as the head teaching assistant. Her research team was excavating a Roman market town and an early Christian community. Some of their findings included Roman coins, jewelry, a life-sized marble head of goddess Aphrodite, and a mosaic.
During the past two summers, Bews additionally worked at the American Research Center in Sofia, Bulgaria, directing the yearly archaeological field school in the Middle Strymon River Valley.
Anticipating her Fulbright year, Bews looks forward to the independence in pursuing her own research and the cultural and academic opportunities that will arise.
"I have spent so much time in the field doing excavation for other people's publications and research that I am thrilled to finally be able to combine both my knowledge of fieldwork and of academia to produce my own work. The opportunity to visit sites, museums, and libraries that would otherwise be inaccessible is one that is invaluable and will hopefully prepare me to pursue a PhD in archaeology following my Fulbright year."