Portillo's does not disappoint
Becca Yi, Editor-in-Chief
October 12, 2016
A soft blend of swing music greeted me as I walked in the door to the new Portillo's in Brookfield, and my eyes took a minute to adjust to the dim lighting. I saw the ridiculously long line to my right, and was relieved that I had ordered ahead of time through their restaurant app. As my eyes wandered around the eatery, I was slightly overwhelmed with the decoration choices. The interior seemed to emulate a diner from the 1950's, but the execution was did not meet its full potential. I was not impressed with the checkered plastic tablecloths, random gadgets on the ceiling, and chaotic signs plastered on the walls. It had a similar atmosphere to any fast-food restaurant, and I was dissatisfied that the sleek-looking architecture on the outside did not match the inside.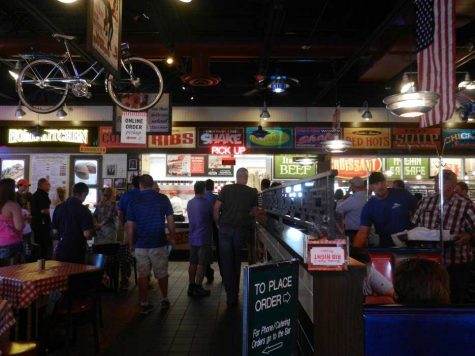 However, the same cannot be said for their menu; despite a rather disappointing ambience, the food was quite delicious. I ordered the standard combination of a burger, fries, and chocolate shake, a wonderful decision. The first thing I noticed was the enormous portion sizes. Portillo's definitely stands by the "go big or go home" mantra with their portions, as they only offer a small and large sizes; when they say large, expect an extra-large! A large shake and fries was perfect to share between two people, so I would recommend grabbing a friend (or three) and sharing. The chocolate shake itself was inside a large Styrofoam cup, and its flavor was smooth and not too overbearing. Personally, I dislike shakes that are extremely heavy and overwhelming in their flavors, so I liked that this shake had a light, easy flavor. The fries seemed like a healthier version of McDonald's and Culver's' fries, but actually contain more calories than a McDonald's small fries; Portillo's deceptively makes their fries exude more of a potato taste, rather than oil, which is why they didn't feel heavy on the stomach. Though I actually prefer my fries to be greasy (and extremely unhealthy), these fries started to grow on me after a while. After trying a few bites of the fries and shake together, I moved on to conquer the burger. Simply put, it did not disappoint. The soft bun enveloped the flavorful meat patty and the entire burger vanished from sight within three minutes.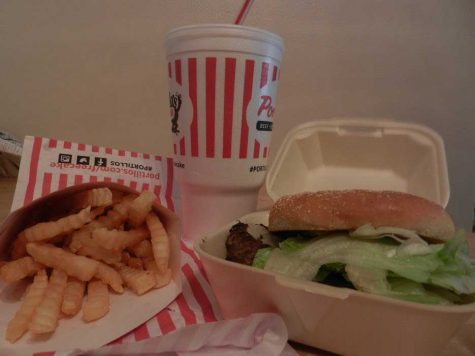 To summarize, Portillo's is a safe choice if you are looking for a casual place to eat with a reasonable price, but in my opinion, it is best to order a take-out. The quality of the food made up for the decorative blunders. I will definitely be a returning take-out customer.
All things considered, my personal opinion of Portillo's can be condensed to the following ratings:
General Ambience: 1 out of 4
Chocolate Shake: 3 out of 4
Fries: 2.5 out of 4
Burger: 3.5 out of 4
Total Score: 3.5 out of 4
*It is recommended that you order ahead online via the Portillo's app.