Rihanna's new single deserves its fame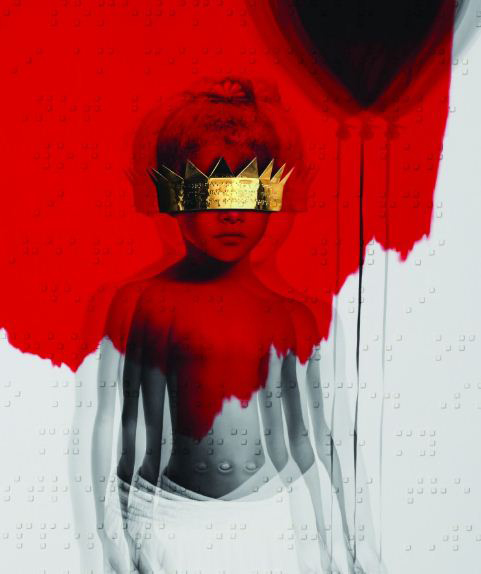 Infused with old soul and a slow doo-wop rhythm, Rihanna's new single "Love on the Brain" is a pleasant and catchy alternative to today's pop music. "Love on the Brain" is Rihanna's fourth single from her latest album, Anti. When I first heard this song on the radio, it immediately caught my attention. Its slow base was an alluring and refreshing change from the previous few upbeat songs. It sounded strikingly similar to old-school music from the 50's and 60's, but with a modern spin. I was pleasantly surprised to find out that it was sung by Rihanna, as it did not sound like most of her upbeat, explicit music. This single sounded more raw than her other music, interspersed with only two swears. However, the lyrics did match the overall tone of frustration with relationships that was widely present in the Anti album.
Lyrics such as "You love when I fall apart so you can put me together and throw me against the wall" and "it beats me black and blue but…I can't get enough" may describe Rihanna's addictive but abusive relationship with Chris Brown in 2009. The lyrics also show Rihanna's indecisiveness about relationships. She sings "don't you stop loving me" and "don't quit loving me" but sings "just stop loving me babe" just one line later. She sings that it is due to "love on the brain" that's got her feeling this way.
Despite the dark meaning of the lyrics, the melody of "Love on the Brain" truly showcases Rihanna's wide vocal range. It begins on a higher note, drops to a smooth tenor and rises again. Listeners can hear the longing, pain, frustration, and indecisiveness in Rihanna's voice with a Amy Winehouse vibe. The song could easily be slow-danced to at a wedding if the lyrics were more mawkish.
Whatever the occasion, "Love on the Brain" is a catchy slow-beat song that's great to turn up all the way in the car and attempt to sing along to.