Medal of Excellence captures Brookfield Central spirit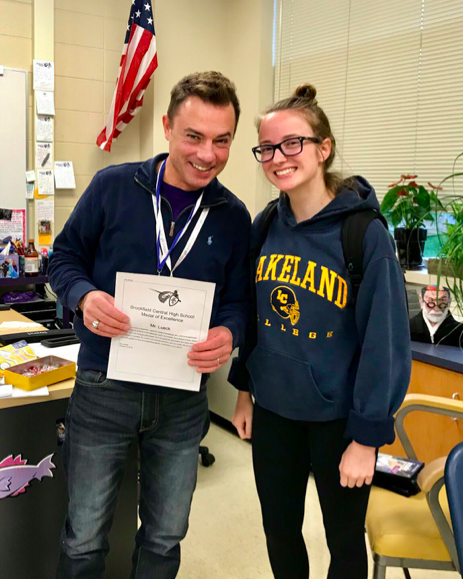 The core values of Brookfield Central — as spoken daily by Mr. Gruetzmacher — are to "search for the positives in the world" and to "never miss a chance to say thank you." These principles are essential to a healthy, safe, and encouraging school environment.
Several students and teachers display these values consistently, and these people are recognized by fellow peers and awarded the BCHS Medal of Excellence. The purpose of this new tradition is to promote the principles on which the foundation of the school is based upon.
So far, there have been dozens of students and teachers who have been given the medal. For example, When Mia Wedel ('20) awarded Mr. Lueck the medal, she stated, "Mr. Lueck is an amazing motivator, and role model. We are all very lucky and grateful to have an outstanding teacher and director at our school."
Mr. Lueck subsequently nominated Grace Hubler ('19), explaining how she portrays optimism and kindness: "She is always positive, helpful, and willing to help others learn and get organized."
It is evident that all of our medal winners, staff and student alike, exemplify the fundamentals of BC.