Team chemistry defines Freshman Girls Basketball season
They might have been new to BC, but they certainly weren't new to the court.
Nine girls. One coach.
An undefeated season.
The freshman girls' basketball team has overcome numerous obstacles throughout the course of the season, finishing with an undefeated record and unbreakable bond. Nonetheless, the question still remains: what was the reason behind the team's undeniable success?
For the answer to that question, one must turn to Parker Neumeier ('23), one of the team members, who stated, "our greatest asset to our success is both the chemistry and trust we have between each other as teammates as well as the trust and confidence our coach has in us. Going into the season, we were all super close already, and it was easy for us to gel on the court."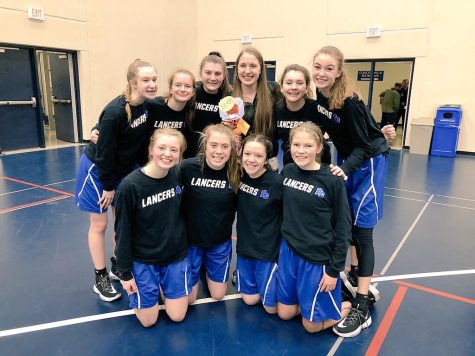 The impacts from this tight bond formed among the players are quite evident, although, the players credit Head Coach Sam Price for the role she played in maximizing the talent available. Neumeier went on to say, "Our coach is a huge reason we have been successful because of her [Price's] positivity, confidence in our ability, as well as her development of our skills. She encourages us to be a team on and off the court through carb crams, team bonding exercises, and so much more. On behalf of my team, we can all say that she is the best coach we've ever had. There's never been a moment when any of us have dreaded going to practice, and that's because although we're working hard, we're still able to have fun." When asked more specifically about Price and her influence, Neumeier gushed, "She's literally the best person and coach I've ever met." It is unsurprising to witness the team's success given how much they look up to and appreciate the sacrifices of Coach Price.
"
"The girls really are one team," Price noted, "especially when it comes to supporting each other… they really focused on the little details and held each other accountable… Their bond is definitely a big reason why they were able to be so successful. On and off the court it was nothing but smiles and laughs, making it very easy to have fun while playing the game!""
— Coach Price
However, Coach Price refused to accept the bulk of the credit, acknowledging the team's cohesion is critical to overall success. "I'd receive pictures of the girls together at someone's house, singing during practice, or in the locker rooms, before the game… They were always together and wanted to be together." The affection the team holds for their coach displayed itself when Price tore her Achilles heel, as the girls helped her face the challenges of recovery. She remarked, "It's been a roller coaster of a recovery. But each day I walked into that gym and was greeted with big smiles… these girls reminded me to be joyful for the things I have right in front of me, despite what I was going through in my recovery. It's a very special group and I'll never be able to thank them enough for all they've done for me."
The freshman girls basketball team demonstrated the effects hard work, dedication, and team chemistry can have on a season, playing with a grit and resilience uncommon at such a young juncture in their high school careers. Indeed, these Central athletes certainly have a bright future ahead of them with unbounded potential if they continue to improve their play and stick together through any adversity that may come their way.