FTC Robotics: An Experience in Engineering and Business
A Look Into the 2021-2022 FTC Robotics Journey So Far
Meet Mishal Malik, a sophomore that is part of the FTC Robotics program, where you build and program a medium sized robot using funding that you receive from sponsorships, and compete at competitions for a chance to make it to the National Level. Malik is part of Team Hazmat, who qualified for the National Level last year.
The FTC Robotics program aims to help students learn and think like engineers while also helping prepare for a work environment. Malik says that, "The problem solving aspect of FTC has changed my outlook on the world. That translates into the engineer aspect- I better analyze problems that I come across, allowing the problem solving aspect to be far more productive. On business specifically, working with people outside of the team to organize events, gain sponsorships, and to see how these companies and teams function has helped me learn about engineering, and how I can be better prepared for the real world. Essentially, all aspects of FTC Robotics, the programming, mechanical and business, all help in preparing you for the future."
This January, Malik says that she has been extremely busy preparing for the various competitions. She elaborates, saying, "There have been a variety of duties that have been assigned to me as the competition dates get closer and closer. These include working with the team to publish our work in the form of an "engineering notebook" to be able to present everything we have done this season in a professional manner". However much work these duties may have taken, in the end they all paid off. Although at Team Hazmat's first competition did not qualify for state, through the help of other Elmbrook teams such as Team Superstellar, Team Gearheads, and Team Rising Rhinobots, as well as scrimmages hosted by various teams throughout the entire state, Team Hazmat was able to qualify for state the next time around as well as earn the Inspire Award, the most prestigious award given at competitions, at their second qualifier. 
When asked about how she feels to have finally qualified for State, Malik stated that, "I am very proud of the team! All of the hard work that each of us has put in really paid off at this qualifier. I'm excited to see how our team does at state, and also excited to be able to collaborate with more teams and learn more about business and engineering in the coming months!".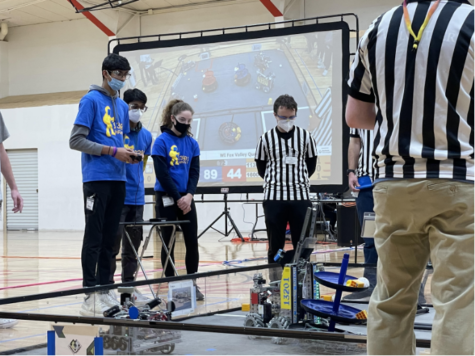 Photo Taken at the January 15, 2022 Robotics Competition. 
Photo shows 3 members of Team Hazmat in the middle of match
From Left to Right: Pavan Yilayavilli, Varun Shankar, Amelia Stalter