Behind the scenes: StuCo at Brookfield Central speaks about the Spirit of Excellence Award
A sneak peak into the workings of StuCo and the effort that was put in to make Brookfield Central High School the winner of the "Spirit of Excellence" award
This year's Winter Pep Assembly doubled as an award ceremony for the Wisconsin Association of Student Councils (WASC). The president and members of the judging panel presented Brookfield Central with the Spirit of Excellence Award. Though BC had won the regional award two years prior, this was the first time the school had been named the state winner.
"I thought we had a good chance of winning the region, but I was not expecting to win the state at all, so that was definitely a really awesome surprise," said Emily Busch ('20), one of the main student coordinators for the award and the chair of BC Student Council's Special Events committee.
Busch had learned of the result through a phone call from Michelle McGrath, the chair of the WASC. "I usually kind of get nervous about phone calls, so at first I didn't answer, and then I saw that [she] left a voicemail, and I was like okay so I'll listen to it," said Busch. She had expected the message to be a confirmation of submission or a notice about being a finalist and was shocked when it wasn't.
Busch texted the executive board group chat upon receiving the news. "I think I was with my mom in the car when I got the text," said Julia Fernandes ('20), "and I freaked out. I was like 'Oh my gosh we won, we actually won.' I was just so happy because it was just a lot of work for all the kids on student council to write the articles and review them, and I've been helping submit this award for the past four years, and I know everything that goes into it and it can be a lot sometimes, so making it all worth it and winning was awesome." Fernandes is the chair of Student Council's WASC committee and another main coordinator for the award.
AWARD/PORTFOLIO PROCESS
To be eligible for the award, the student council submitted a portfolio highlighting BC's strengths in service, athletics, fine arts, academics, sportsmanship, leadership outside the school, and lowering the achievement gap. Each section required five articles detailing an event related to that category with each article entailing a 150-word summary of the event along with a brief reflection and an artifact (a photo or graphic) as proof that the event occurred. Ideas for these articles were generated through previous years' submissions, executive board meetings, and all-member student council discussions.
"A lot of it just naturally comes out in discussion without even having to look at those because everyone has their favorite school events, and at BC it's easy to have that conversation of which events we think we're excelling at because there's so many and we've got so many options in every category," said Fernandes.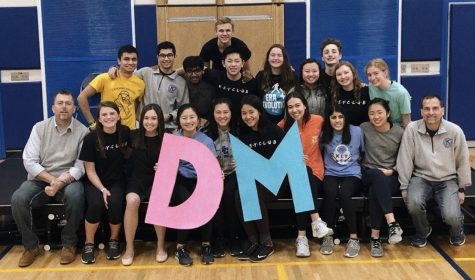 Once the ideas were solidified, student council members signed up for their article on a spreadsheet. Although this was a change from previous years, where a smaller committee worked on the award, it was one that members of the student council found to be beneficial. "I think that really helped to get the people who were experts about certain events writing about that certain event, whereas I might have ended up writing about some random Key Club event I didn't attend in prior years. It really made this award a lot better. [I]t wasn't just the exec board or a couple of us writing, it really was the product of so many students and the perspectives of those students," said Busch.
Fernandes echoed the sentiment, saying "one thing that we're blessed to have in our student council is that we have a very active student body, and so many of those students, while they're active in student council, are also active in other activities, so it's easy to get someone to write about [an activity they specialize in, like] jazz band or Key Club."
Each contributing member made a copy of the article template and filled it out. Busch then downloaded the articles into pdfs, organized them in the right order, and compiled them all into a single file. "I know there was at least one day we had off of school, and I was probably sitting at my kitchen counter, editing and organizing for like four hours just to get it all sounding good and organized," said Busch.
FORMAT/LAYOUT
Also new this year was the graphic formatting of the portfolio. Mikayla Utnemer ('20), the chair of the Media and Publicity Committee, and Bobbie Knopp ('20) were in charge of this portion. This included a cover page and table of contents for both the full paper and each section, each blue-gray font with orange highlights set against a light blue background. Utnemer spoke on how grateful she was for Knopp's assistance, stating, "Bobbie Knopp helped me in designing the graphic design scheme of the portfolio and was such a great help! Her skills in visual design were very apparent, and Yearbook is lucky to have her!"
Fernandes felt that the new packaging played a role in their success this year, saying,"[They] designed their own casing and formatting for the articles, so [they]… made it look cool. In the past we've just had these white sheets that match the rubrics and handed that in, but [they] did all these graphic designs and it just caught your eye a little bit more."
Altogether, the portfolio represented BC's all-around success. Fernandes emphasized this, saying "[The award] kind of focuses on more the well-roundedness of school, more than excelling in one area, and I think that we're a pretty good example of that."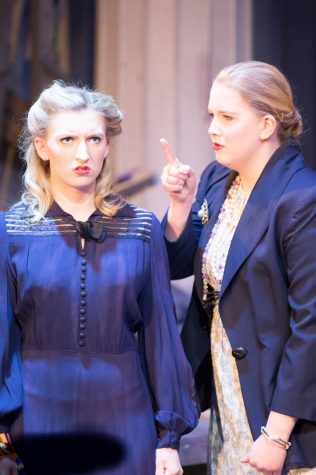 WHAT DOES THE AWARD MEAN TO YOU?
Julia Fernandes: "I am so honored that we got this award at our school and I'm so happy we did because honestly I've enjoyed the past four years here so much and through my interactions with other student councils in the WACC, I feel like Brookfield Central really does go above and beyond in all those categories, so being able to submit an application that made them realize we're worthy of this award was just such an honor and being able to showcase our school because, I don't know, I really like it here."
Emily Busch: "I think to me this award just represents the successful culture that BC has had, and it really just is tangible evidence that we have such a great culture here at BC where everyone is involved and all the programs really thrive cause I think that that's not too common at other schools."
STUDENT BODY / BC IMPACT → WORDS FROM STUDENT COORDINATORS
Quote from Julia Fernandes: "I think the student body should be really proud even if they don't necessarily know it. But this award is for … anyone who has been to a Key Club meeting and helped us be the largest Key Club in the nation, anyone who's gone to a sports game and cheered on our sports team or has participated in a sport, anyone, you know, who took the ACT or has gone to the PSAT to help us reach that goal of having so many students and participating to challenge themselves even. Anyone who has tried to make a difference at BC or has just participated to challenge themselves or their peers really, this award is for them."
Quote from Mikayla Utnemer: "I believe this award is validation for the student body for all of the hard work that they put into each and every one of their endeavors. A lot of times, students, staff, and administrators put in so much work only to feel like no one has noticed all of the extra effort that they dedicate to preparing themselves for fulfilling that role. This award is a message to those who feel under-appreciated that their hard work doesn't go unnoticed, and rather, contributes to the wonderful environment that is Brookfield Central."
Quote from Emily Busch: "I just really hope that the students recognize that this isn't just some little random award, like it really, it really was done by the students and it really means a lot for our school to win it because only one school out of the entire state wins it, so I hope it really just helps students realize just how lucky we are to go to a school like this where everything is successful, and not just one program, not just athletes or not just fine arts or academics. It's really rare that all three of those are really successful here."
WASC COMPETITIONS / STATE
Up next for BC's Student Council is WASC State on April 5, which due to the Coronavirus outbreak has since been canceled. For this convention, Fernandes and her committee have been rewriting the competitions. "We made them more applicable to student councils, to try and challenge them to do more at their schools because in years past I've felt that a lot of their duties focused around homecoming, and I love that our duties go above and beyond homecoming, and so trying to challenge student councils to do that in their own school life," said Fernandes. She went on to list some of the competitions—best project, creative marketing project, leadership growth and development, and group problem-solving scenarios—that replaced pieces such as creating a button or writing a skit. Participating student councils will register for the competitions through a SignUp Genius.
This year's state convention will be held in Green Bay, a change from previous years' Madison. Fernandes observed an increase in student interest at BC this year, stating, "I think that the fact that we're rewriting the competitions has kind of got some new life to people's awareness about the student council and WASC, and has made more people want to go this year."