Anel Robinson ('21) on why she started Black Student Union and her goals for the future
Naureen Kamal, Design Editor-in-Chief, Sports Editor
September 7, 2021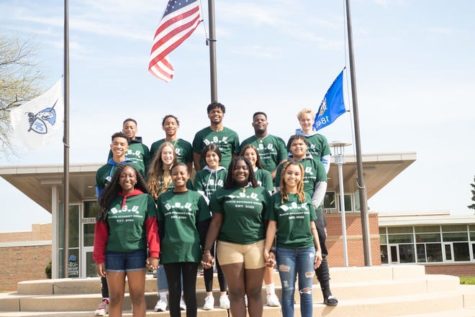 2020 has been a tumultuous year, to say the least. Amidst difficult times and civil unrest, Anel Robinson ('21) decided to reintroduce and celebrate diversity in the BC community. Through Black Student Union, a club she started with other peers, she hopes to educate her classmates and school community on the importance of representation and what being Black means to her.
This interview was conducted and transcribed by Naureen Kamal ('23). The interviewee was Anel Robinson ('21). 
Naureen Kamal: There were likely many reasons for you to start the Black Student Union. Could you name a few? 
Anel Robinson: Yes, so the reason why I wanted to start BSU was because of how uncomfortable I was feeling in some of my classes being predominantly white and the people around me not knowing a lot about my background and history. As a Black individual, other than learning about Martin Luther King Jr. and other staple leaders in the black community, there was little representation in school. So, I wanted something so [that] people can learn more about the black skin that I have, and so more people that look like me are more comfortable being in class.
NK: What do you think is the most important thing regarding representation and the effects of not being represented in the school environment?
AR: I feel like when you're in that environment [where] you're not given a lot of information about your background, you start to feel a little left out and alienated from the rest of the student population. So when you're trying to include diversity within the curriculum, within the staff, within the student body, within the whole school community, it comes down to what is being taught in classes to make sure that everyone is represented and everyone gets the same amount of knowledge about different backgrounds. Because even though [Brookfield Central is] predominantly white, there are still very important cultures from different students from different backgrounds. 
NK: What is the greatest benefit you've seen so far from starting BSU? 
AR: People are genuinely wanting to help out in any way that they can and be there to listen and learn something new. It's been a place for teachers, administrators, and students to learn something new, and it's such a calm environment where we're just learning topics and teaching to people who want to learn more or are curious.
NK: What are your biggest hopes for BSU in the future? 
AR: For BSU, my hope is that if you're looking at Brookfield Central from the outside, and you're not a part of the district, this club is one of those things that pushes parents to enroll their kids in this district because of the positivity that we're working towards and the peacefulness that we have as a group. In the future, I hope that this continues to be a place where people can come and learn things outside of class and learn about things that are important to some of the African American students that are sitting next to them in their classes.