BC's Hunchback nominated for 17 Jerry awards
Despite a rocky beginning, the musical came together for four stunning shows
With the final closing of the curtains Sunday, November 17, Brookfield Central's fall musical came to a fantastic close. After surviving tech week and months of hard work, the participants of the musical were able to reap the benefits of the successful musical. Despite initial thoughts and presumptions, the performance was above all expectations and highly entertaining for not only the students but also the audience that came to support and watch the musical.
To begin, the audience's approval of the musical was quite high. Seeing that this musical was very different from last year's (Newsies), expectations were riding both high and low. Since Newsies was an upbeat, entertaining musical that gave hope to the underdogs of society, The Hunchback of Notre Dame was a splash of cold water with its dark and dreary themes. After all the shows, though, the overall consensus was a highly positive one. Sarah Rubenstein ('22) said, "I really liked it and especially the music. The set was very cool, especially the window and bells. I thought everyone who performed did a very nice job and it seemed very smooth and professional to me. Personally, compared to Newsies, I liked this one better because of the songs, especially Jonah who played Frollo. I didn't like the plot of Newsies as much, but I thought both were very good."
The performers also expressed their delight at achieving such a momentous feat. Nishant Namboothiry ('22), a sophomore who played Quasimodo (better known as the Hunchback), said, "For me, taking on this role was a very unique experience, one that I had never done before. Being hunched takes a heavy toll on your back, and on some of the longer scenes, I was struggling to stay in character. [Quasimodo] is also an emotionally complex character, so I really had to strip [the role] to its core, understand everything about it emotionally, and then channel that into my performance. Typically what I do is look to see what I and the character I'm playing have in common, but Quasi and I were quite different. I had to peel back the layers and work from the bottom up to fully get a feel of what I should be doing at any given moment while in this character, but I loved every second of it. As for the musical itself, our theatre group is like one big happy family. We all support and love each other even if one of us is struggling. Being able to be with such close friends on such an emotionally driven show was just magical and I would kill to get the opportunity to do it again".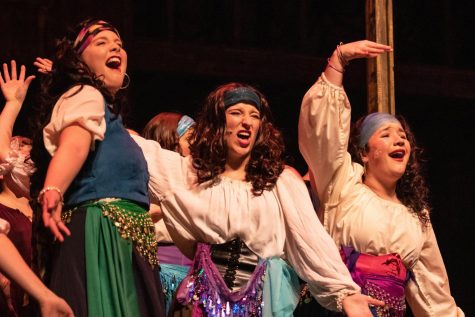 Jonah Morokia ('20) who played Frollo said, "Being Frollo was completely different from playing Davey because it required a lot more introspection and character study than Davey did. It was an interesting challenge to show character motivation while also keeping it clear to the audience that I was the antagonist. It was an amazing experience to bring the character to life. Controversy in the theater is fun to work with because it explores the taboo elements of society in an artistic and easy-to-follow manner. I think my character exemplified the issue of corruption and the abuse of power, which is especially important in the age of victim empowerment and the #metoo movement. This musical was the perfect way to close out my high school theater career. It was one of the most introspective experiences I ever had in high school and I will always have fond memories of it. It's an extremely rewarding experience."
The pit also had a wonderful time participating in the musical. Malena Weber, a sophomore who played English horn and oboe in the pit, said, "Being in my first musical was a great experience for me. I feel like the time I spent rehearsing helped me grow as a musician, in many ways. Playing in the pit was different than a band because everything you did was exposed, and your part would be different than that of those around you. It was daunting at first, on account of the hard music and learning the English horn, but as time went on I found myself excited for rehearsals. The musical also helped me meet a lot of new people who I'm friends with now, in-pit or outside of it. I'd recommend the experience to everyone!"
Kyle Lee ('20) played a variety of instruments in the musical's pit (bassoon, saxophone, clarinet). He stated, "This was a very challenging musical because I had to switch between two different instruments and I was playing a lot more compared to the last two years in the musical. The music is more orchestral compared to pop like that in Newsies and, personally, I like it a lot more. The music is more developed. I really enjoyed the musical, and my advice to aspiring pit musicians would be learn another instrument if you are a woodwind player and please learn how to look up at the conductor while playing."
"The process of putting together a production of this scale can be rather daunting," said Mr. Lueck, the director of the production. "The great success of this show was one of the most surprising accomplishments of the theatre program in all of my 30 years of directing students. I wasn't certain that we would make it! The material is so very profound and poignant. It is far from a 'toe-tapper.' I was concerned that maybe we chose something too inaccessible for the students. It was truly challenging but so worth the work. Audience members responded by thanking us for accepting the challenge, disseminating the message of the work, and taking a brave and powerful risk with important content."
The Jerry Awards nominated Central's The Hunchback of Notre Dame for 17 categories, including Best Musical Production, Outstanding Performer, Scenic Design, Costume Design, and Choreography.
"I'm surprised that this production beat the number of nominations received by Newsies last year, but you never know," said Mr. Lueck. "This show was very deep in message and content. Plus the libretto" – the text used in the musical – "was way beyond a lot of what other programs try to do, half of it being in Latin, etc. I'm very pleased with the work our students did."
In the end, the Hunchback of Notre Dame presented very new challenges to all the students who participated, but by overcoming them together using hard work and perseverance, the students pulled off an amazing show that stunned both the performers and the audience.