New Chick-fil-A Restaurant in Brookfield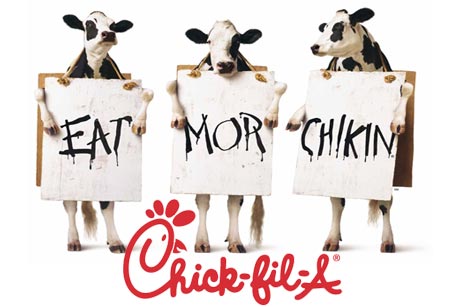 Originating from Hapeville, Georgia, Chick-fil-A is a new restaurant in Brookfield that opened in September of 2014. Home of the chicken sandwich, Chick-fil-A has delicious food, efficient customer service, and a relaxed atmosphere.
While looking at Chick-fil-A's menu, it's quite clear that the franchise specializes in a variety of affordable meals. All of these meals feature great-tasting chicken that are well cooked and properly seasoned.
Chick-fil-A's meals go above and beyond the standards set by other chicken restaurants, such as Kentucky Fried Chicken. While these competing restaurants sell greasy and unappealing chicken, customers can enjoy Chick-fil-A's food without feeling guilty afterwards.
Also, Chick-fil-A sells sides, such as waffle fries, to go along with their meal. The fries at Chick-fil-A have the perfect amount of salt, making them a great addition to a meal.
Restaurants like KFC offer sides such as mac-and-cheese or mashed potatoes, neither of which can compare with Chick-fil-A's options.
Another favorite on Chick-fil-A's menu is their mouthwatering shakes, with flavors from vanilla to cookies n' cream. For a restaurant that specializes in chicken, their milkshakes are quite tasty.
Other than their great food, Chick-fil-A has speedy customer service. Often times, there is a long line of hungry customers coming out of the restaurant. Not only do Chick-fil-A employees get everyone in and out within minutes, but they do so with a smile on their face. The service is so quick and convenient, customers are willing to wait through Chick-fil-A's drive through, which frequently has a line of cars so long that it extends into neighboring parking lots.
However, with so many customers coming through the doors everyday, it's hard to get everyone's orders straight. One of the only drawbacks of Chick-fil-A is the fact that employees sometimes mishear an order and cook up the wrong meal.  Also, employees often wander around the restaurant for awhile to find the right customer to deliver food to.
Because of Chick-fil-A's increase in popularity, one might think that their atmosphere is loud and crowded. This is not the case. The employees are able to manage the numerous customers, while still maintaining a calm, cool, and collected attitude.
Overall, Chick-fil-A is a successful company that deserves all the attention they are receiving. With some of the best chicken around, along with friendly employees, fast service, and a positive atmosphere, Wisconsin should be glad Chick-fil-A has decided to expand to the Midwest.