Tanking gas prices explained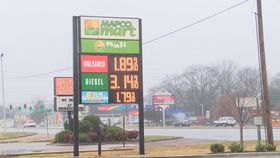 Samuel Liu, Online Editor in Chief
February 12, 2015
Over the last six months, it was impossible for drivers to not notice that gas prices have slid from a national average of $3.60 per gallon to below two dollars. The last time gas prices fell this low was in 2008, when the national average was just over $2 a gallon, just after Obama first took office.
Simply put, this is a matter of supply and demand though, under careful consideration, a number of factors have contributed to these unprofitably low oil prices.
As a result of hydraulic fracturing for shale oil in the United States, American industries have left us almost head-to-head with Saudi Arabia and Russia as the largest crude oil producing nations. While the market demand for oil has not changed significantly, Saudi Arabia and OPEC (Organization of the Petroleum Exporting Countries) nations have decided to wage a price war against the United States in order to hold onto their existing market shares and revenue, reducing the consumer cost per barrel in order to drive American industries out of the market. At any lower prices, it would not be economically viable for America to compete with Middle Eastern countries that can produce oil at much cheaper prices than us. It has become a question of which producer can "bleed the longest," with OPEC nations having a significant advantage given their lower production costs. A likely scenario is that Saudi Arabia will continue pressing oil prices lower and lower, well below breakeven points for high-cost North American companies, until their competition is forced out of the market. Whoever is left will not be able to challenge OPEC as the undisputed oil leader, and as it regains market share and revenue, prices will rise back up to the profitable range– around $2.60 a gallon and beyond.