BC students advance in Poetry Out Loud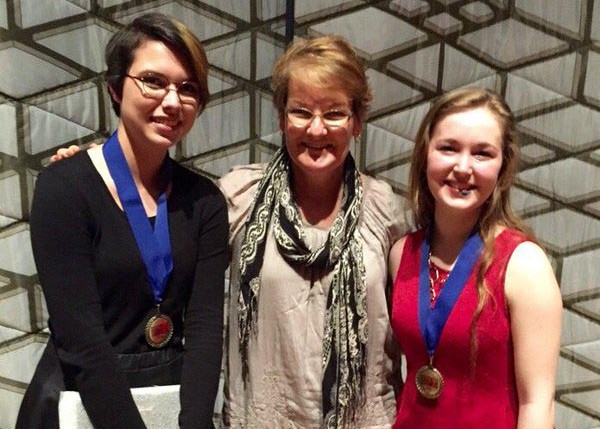 Speaking of recitation competitions, BC students Kirsten Meier ('16) and Sarah Brown ('16) recently advanced to the state level of Poetry Out Loud, which is an annual recitation contest. Poetry Out Loud allows students to explore poetry in a new way, while challenging them to present and interpret poems in unique way. Competitors memorize several poems and then deliver them with meaning. The presentations are judged based on a variety of aspects, such as the speaker's dramatic and physical presence, word accuracy, and overall understanding of the poem.
Although it demands a great deal of practice and work, students thoroughly enjoy the event.
Brown said, "I like how Poetry Out Loud combines drama with public speaking and poetry analysis. It stretches student's natural skills and combines them in unique ways that I think will be really helpful throughout life." This was Brown's second year participating in Poetry Out Loud. In the first round, organized by Mrs. Honore Schiro at Brookfield Central, competitors had to memorize two poems – one that was 25 lines or fewer, and one written before 1900.
Having won the contest at BC, Brown and Meier proceeded to regional competition. Several schools competed at the Sharon Lynne Wilson Center, and again, both were chosen to continue on to state held in Madison. Competitors had to prepare three poems to present. Meier performed so well here that she won and will be heading over to nationals in early May, held in Washington D.C.
When she heard the great news, Meier was both shocked and excited. When asked about her experience, she reflected, "I love performing and public speaking, so overall, the experience has been great. There is no better feeling than getting through an entire memorized poem and speaking it with passion and enthusiasm."
Poetry Out Loud definitely presents students with an opportunity to show creativity, while exploring the vast world of poetry. Meier said, "I love participating in Poetry Out Loud because it gives young people the opportunity to learn historical and modern works of literature, all while trying to put their own meaning behind it." We wish Kirsten Meier all the best as she competes in the final round of Poetry Out Loud!