JSA students travel to Spring State Convention in Illinois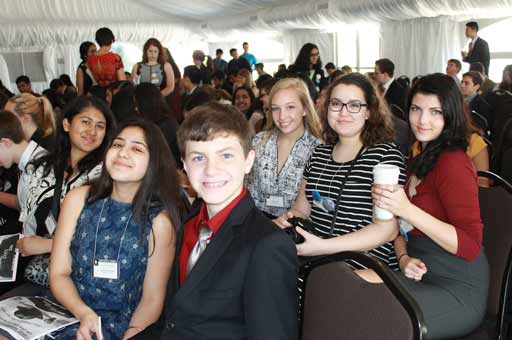 On the morning of April 16, members of the BCHS club Junior Statesmen of America (JSA) pulled up to the back entrance of the school to hit the road for Schaumburg, IL for the 2016 Spring State Convention. Maria Farrokhnia ('17) was the team leader and Anna Barry ('16) was the chapter president for the weekend spent at the Hyatt Regency hotel in Schaumburg, joined by other JSA teams from the Midwest region.
The convention was teeming with eager and intelligent adolescents ready to start debating. Many travelers at the hotel were shocked to see over 200 well-dressed teenagers in blazers and ties (really this convention intrigued everyone).
The day began with an opening ceremony delivered by Midwest JSA Cabinet members. Afterwards, there were various types of debates and thought talks (open discussions). On a side note, I was very impressed by the organization and layout of the convention. There were a total of nine blocks throughout the convention, and each block was 50 minutes long. There were five different events per block and each one was held in a different room.
There were a lot of interesting events and topics. In fact, the theme of this convention was "The Future of Our Nation". Some topics were about Hillary Clinton and her role in the feminist movement, states seceding from the Union, and whether or not the federal executive branch has too much power in our government. Each topic was as engrossing as the next, and it was difficult to choose one over the others. Some that I chose were deporting illegal immigrants, eradicating racism, and reducing global terrorism. I was thrilled to be able to provide some insight as well as listen to my peers.
The evening was filled with fun and lighthearted activities such as an entertaining rap battle, an open mic and karaoke event, an open dance floor, and a speed dating event. We were politicians by day and High School Musical singers by night.
I was immediately drawn in by the type of people at this convention. They were all well informed about current issues today, and spoke like professional politicians. I knew that I had a lot to learn from these people. I formed many close bonds with people at this convention merely by conversing with them. The whole time, I couldn't help but think that in only a day, this trip would be over, and I wouldn't meet these talented people for months. My new JSA friends and I are texting excitedly about the next convention.
For the first time, I felt like I was a part of something truly great and meaningful. I had always been ardent about politics and global issues, but I never quite knew how or where I could find an outlet for this particular interest.