BC DECA competes at ICDC in Nashville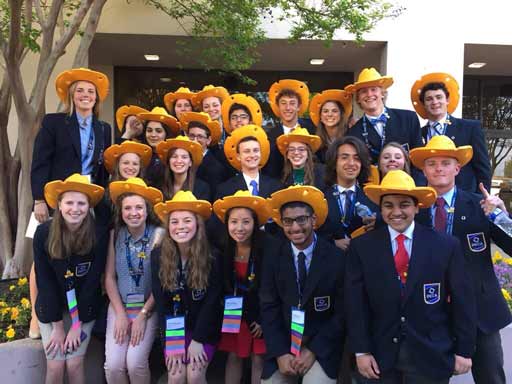 After the state competition in March, twenty-six Brookfield Central Students competed in DECA's International Career Development Conference (ICDC) from April 22 through April 27 in the heart of Music City: Nashville, Tennessee. For the first year in BC DECA history, Brookfield Central had two ICDC finalists: Aileen Herman ('16), competing in Human Resource Management; and Rajat Mittal ('19), competing in Start-Up Business Plan. BC DECA also had one medalist: Pranav Shashidhar ('18) in Principles of Marketing.
"ICDC is an amazing opportunity for students to showcase their business and marketing knowledge, learn more about leadership, and network with students from all over the globe," said Mrs. Megan Fisher, BC DECA advisor and President of Wisconsin DECA. "ICDC is the culmination of a year's worth of work for our students, who have spent countless hours preparing business plans, promotional campaigns and studying cluster exams and performance indicators."
Before ICDC, DECA competitors chose an event to compete in, such as Marketing Management, Sports and Entertainment Marketing, or Accounting Applications, from a certain "career cluster," which focuses on principles from business management and administration, entrepreneurship, marketing, hospitality and tourism, or finance. Students may also compete with a partner in certain team events. After qualifying for state, some students opted to compete in project-based events, in which they create and present a project such as an Independent Business Plan, a Fashion Merchandising Promotion Plan, or a Professional Selling plan.
"I chose to compete in Innovation Plan (DECA event) because I already had a product that would be successful," said Jack Magnus ('18). Jack chose to create a dog GPS tracking tag collar and won 6th place in the state competition, landing himself a ticket to ICDC. "Before I even knew I was competing, I stumbled across my idea. From then on, I understood that the only way for me to utilize this product was through Innovation Plan."
Kirsten Jorgenson ('17) said her favorite part of ICDC was "being with our chapter in a larger DECA setting. Because there were so many people from other states and countries, we all stuck together."
By spending five long days together as a chapter, team bonding was definitely inevitable. "My favorite part of ICDC [was] watching the bonds that [were] created as a result of the trip" said Mrs. Fisher. These bonds lasted past the end of the ICDC experience.
Another unanimous favorite was the warm weather. With daily temperatures in the high 70's  (opposed to Wisconsin's low 40's), sun hats were a favorite thing to collect and trade during opening sessions, closing sessions, award ceremonies, and conferences. "I was able to get a really cool sun hat from girls from North Carolina that everyone stole throughout the trip," said Jorgenson. "Even the boys realized how useful sun hats are when it was super sunny."
"Although we were in Nashville to compete, part of the experience is enjoying the hospitality of our host city" said Mrs. Fisher. Students were able to attend a concert at the Grand Ole Opry, socialize at a sold-out baseball game, enjoy a cruise on the General Jackson showboat, line dance at Wildhorse Saloon, attend the ever-so long but colorful award ceremonies at the Bridgestone Arena, as well as explore the lively and popping downtown Nashville. "The city itself was amazing with all the live venues and amazing food," says Henry Mirsberger ('16). "I would recommend it for anyone looking for a weekend trip!"
For some seniors, this year's ICDC was their last official high school DECA competition. "I'm so proud of how far everyone has come…I know everyone will go on to do amazing things," said DECA Vice President of Membership, Molly Steinert ('16).
Although it may be the last DECA EPIC year for seniors, others will have a chance to compete in the next ICDC competition, held in Anaheim, California.