Economics Wisconsin Challenge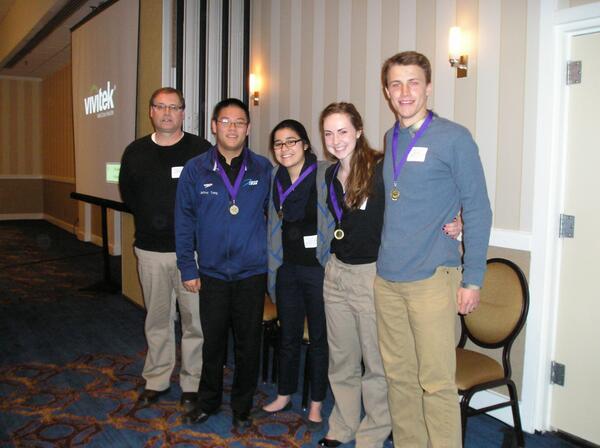 Mr. Marc Stanke and 16 of his highest-performing AP Micro- and Macroeconomics students were invited to compete in the annual Wisconsin Economics Challenge Friday, April 4. This competition gave the students a chance to practice the class material before AP Exams, and perhaps even qualify for the national competition.
Held at the Brookfield Sheraton Hotel, the Econ Challenge consisted of four difficult stages. First, each individual took 25-minute micro- and macroeconomics tests. Subsequently, all the students split into teams of four and took group tests on international economics, followed by a Super Quiz after lunch, where the participants entered each answer to their questions into a computer after they were asked by the proctor. In the end, the two teams with the most points went head to head in the Quiz Bowl, a "lightning round" where questions were asked and the contestants had to hit a buzzer in order to give answers.
All four of Central's teams performed exceedingly well at the competition this, but a few of our members stood out above the rest. Neal Mathes ('14) achieved the highest score overall on the Macroeconomics test while the team of the Cantankerous Keynesians, made up of Jeffrey Teng ('14), Ben Rittler ('14), Abby Haynes ('15), and Veronica Daniel ('15) won the top prize.
"I was so ecstatic to take back the championship, after finishing in 3rd place last year. Every year, we have competed, we have won 1st place, except last year. I like to consider BC the Duke of AP Economics Challenge. I was allowed to invite 16 students for the first time this year, and I was incredibly proud of all 4 teams." said Stanke after the competition.
Many of the other teachers expressed how impressed they were with all of our students.
By the end of the third round this group was one of the top two teams and had the opportunity to compete in the Quiz Bowl. In a nail-biting series of ten questions, the Keynesians were able to beat out their adversaries from Nicolet High School, winning a $200 dollar cash prize and qualifying for the National Semi Finals on the State level. All the teams in this round would vie for one of four spots for a National, all-expense-paid Final competition in New York.
The following Friday, the Keynesians participated in the Semifinals (proctored at Brookfield Central). Unfortunately, they were not able to progress to Nationals, but nevertheless proved themselves to be one of the top teams in the US.
Afterwards, Teng said of the experience, "There was a lot of studying leading up to the first round, but it really paid off. However, the journey is more important than the reward. Even though we didn't move on after the second round, we learned a lot from competing."
I was so ecstatic to take back the championship, after finishing in 3rd place last year. Every year, we have competed, we have won 1st place, except last year. I like to consider BC the Duke of AP Economics Challenge. I was allowed to invite 16 students for the first time this year, and I was incredibly proud of all 4 teams.
Many of the other teachers expressed how impressed they were with all of our students.-Stanke