Stan Lee, co-creator of Marvel Comics, passes away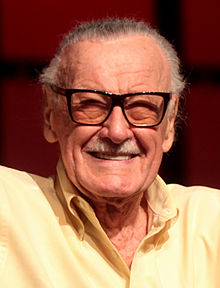 Stan Lee: an icon, a role model, an inspiration. One could even go so far as to call him a true hero. On November 12, 2018, Lee passed away at the Cedars-Sinai Medical Center in Los Angeles, CA. Lee, a comic book writer, editor, and publisher, was best known for his role in the creation of the Marvel Comics. Along with artists such as Jack Kirby and Steve Ditko, Lee created and developed superheroes ranging from the Fantastic Four to Spider-Man. Lee continued to create and co-create many staples in the Marvel universe such as Iron Man, Hulk, Thor, X-Men, and Black Panther (along with several others). What set him apart from every other storyteller was that his characters were not perfect; even though they were superheroes, they still had human flaws. Lee's audience looked up to these characters not as figments of a vivid imagination but as actual people that they could learn from — and Lee himself became a role model to many people, inspiring them to embrace their creative minds and develop exciting (yet meaningful) stories.
Stanley Martin Lieber was born in Manhattan, New York in 1922. From a young age, he possessed a talent and a knack for writing. In high school, Lieber worked part-time for several newspapers, writing obituaries and press releases, working as an office boy, and selling subscriptions. His early career began in 1939 when he became an assistant at the Timely Comics; in a matter of twenty some years, Timely Comics would become Marvel Comics. Lieber debuted his comic career by writing fillers in Captain America #3 using the pseudonym Stan Lee — he didn't want his name to associated to the low status of the comic book industry at the time. Ironically, Lee's contribution to comics is what revolutionized his career as well as the industry. Lee later joined the army, serving in World War II under the military classification, 'playwright.'
In the early 1960s, Lee was requested by the newly-named Marvel Comics to create a series that could compete with their main rival, DC Comics, who had just released their hit series Justice League of America. Pulling from inspirations such as Sir Arthur Conan Doyle and Jules Verne, Lee and co-creator Jack Kirby developed the Fantastic Four series. Noting the success of this story, Lee and other writers at Marvel went on to create what became arguably the most well-known Marvel superhero stories, including that of the Hulk and Spider-Man. In the years following, as Marvel Comics grew in popularity, Lee became involved in the editing and publishing of stories as well as Marvel's transition towards the filmmaking industry.
Even after retiring from his position of editor-in-chief of Marvel Comics, Lee remained a public figurehead for the company. Lee has also appeared in a cameo scene in every Marvel movie along with being credited honorarily as an executive producer.
Lee's contribution to the comic industry profoundly reinvented the superhero archetype by providing a naturalistic approach. By creating a strong bond between characters and fans, Marvel Comics has been and will remain a crowd favorite, and the characters Lee created will remain in popular culture for decades to come. Rest in peace, Stan Lee; you will be dearly missed. Excelsior!