Leah on the Offbeat disappoints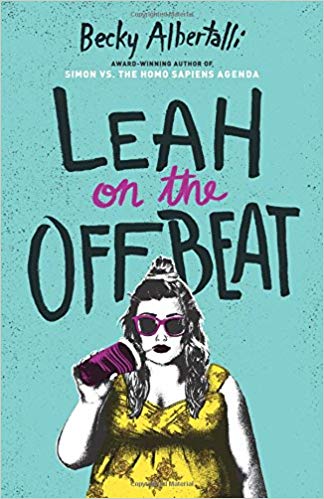 Hang on for a minute...we're trying to find some more stories you might like.
The Goodreads system usually does a pretty good job of reflecting the public's opinions on books. At the end of last year, it compiled a list of the top-voted books of the year in each genre. Most of the book on that list definitely deserved their spots, but there was one book in particular that just seemed lower in quality than the rest. The winner of the YA Fiction genre was Leah on the Offbeat, a sort-of sequel to Simon vs. the Homo Sapiens Agenda (also known as a movie under the title of Love, Simon). It wouldn't be fair, however, to compare the sequel to the original, so here's a review of Leah on the Offbeat as a standalone novel.
To preface this opinion, the following review bears no weight of my personal views of sexual orientations.
In the beginning, Leah on the Offbeat looked like a very promising book. It was a book that recognized the fact that the world is becoming increasingly diverse and that all forms of entertainment should reflect that diversity. Leah, the main character, is bisexual; one of her best friends is gay and has a boyfriend; there's even a love triangle of a girl having to choose between a boy and another girl. That's great and all– but there's something wrong with the execution. The book revolves around Leah's friend group and the pressures of senior year, which is usually a recipe for mediocracy (a decent sort of mediocracy) in the YA fiction world.
The thing that makes this book so bad, then, is its narrator. Now, there's nothing wrong with a strong personality, but Leah, the narrator, has a personality that is strong in all the wrong ways. She's touchy about every little thing, yet claims self-confidence; she makes giant assumptions, then gets mad when other people challenge them; other people's emotions barely matter to her and her opinions. This would be fine if Leah changed her ways by the end of the book, but her frustratingly consistent narration style colors the book's events to the point where even some of the most lovable characters in the book are reduced to flimsy words on a page. Even Leah's internal conflicts about her bisexuality that are supposed to engender sympathy are just annoying. Things that should be reflective or significant are covered up by the book's unbearable narrator.
Quite frankly, the point of this review is to show that just because a book appears to reflect important themes in modern society doesn't mean that it's actually worth reading. When a piece of writing has an important message, it's important to make sure that the writing is enjoyable to read– what use is a book that no one wants to read? No one will read the message, and it will all be for naught.
While Leah on the Offbeat's themes of self-acceptance and relationships are pretty significant to high school readers, those themes could have been communicated much more effectively through another book. Of course, representation in literature will always be a relevant topic, but the bottom line is that books have to be good in order to really make a difference. Hopefully, in the future, books like Leah on the Offbeat will improve and put on a better show.