Spider-Man spins fantastic new sequel
FFH named a "lighthearted relief"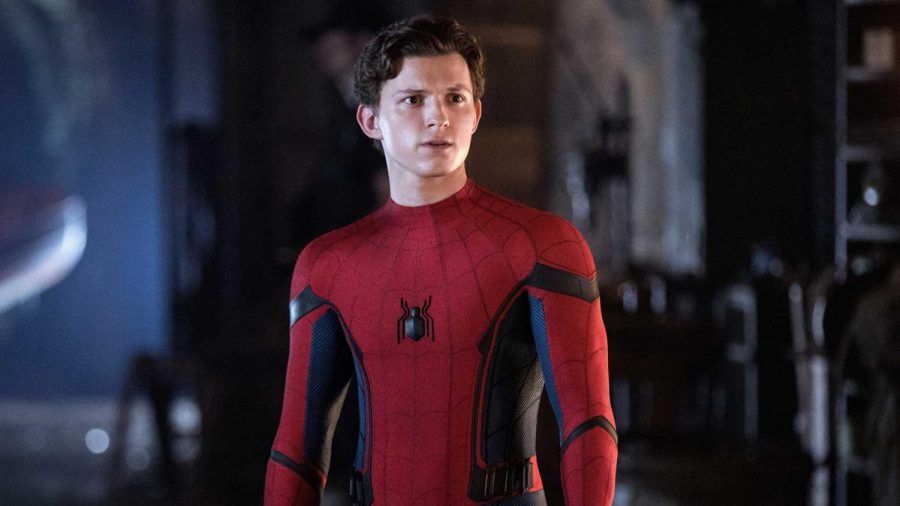 Ananya Rajesh, Entertainment Editor
October 3, 2019
Following the shocking and tragic events of Avengers: Endgame, Spider-Man: Far From Home premiered as the
conclusion to the Marvel Cinematic Universe's phase three. Fans anxiously awaited the movie, wanting to gain solace in Spider-Man's lighthearted themes and humor. Set approximately eight months after Endgame, Far From Home tackles the difficult job of explaining the repercussions of Thanos' snap, otherwise known as "The Blip."
A majority of the movie takes place in Europe, as Peter Parker and his friends are taking a much needed school vacation. Tom Holland reprises his role as Peter Parker, co-starring with Jacob Batalon (Ned Leeds) and Zendaya (MJ). The lack of Tony Stark's presence is filled by Jon Favreau as Happy Hogan, Marisa Tomei as Aunt May, Samuel L. Jackson as Nick Fury, and the new addition, Jake Gyllenhaal who plays the new character, Mysterio. The film has been praised for its diverse casting of highschoolers, representing the range of ethnicities now present in schools.
The movie explores Peter Parker's emotions following the events of Endgame and the death of his mentor and father-figure, Tony Stark. FFH also incorporates how life resumed following the resurrection of 50% of the population after "The Blip." Feeling immense grief over the death of Stark, Peter attempts to take a break from heroism and try to live a normal life of a highschool student. Left as the next Iron Man, Peter is unable to deal with the burden of living in Stark's shoes. Unfortunately, as conflict with unearthly creatures called the "Elementals" arises, Nick Fury tries to enlist the help of Peter.
Peter, on his school's field trip to Europe, refuses, claiming that outerworld newcomer Quentin Beck, under the alias of Mysterio, is better suited for the job. Unfortunately, Peter is still roped into the action when his peers' lives are put at risk due to the Elementals. Defeating them alongside Mysterio, Peter believes that Mysterio would be better suited to take on the responsibility of being the "next Tony Stark". In a classic cinematic twist, Mysterio's true identity is revealed, and soon a whole realm of chaos ensues.
Far From Home was a box office hit, amassing $600 million in revenue during its first ten days, and making a grand total of $1.13 billion. Listed amongst other phase three MCU movies, the film is now ranked as the 29th highest grossing movie of all time. The film also garnered positive reviews, earning a 90% on Rotten Tomatoes. Critic Sandie Angulo Chen from Common Sense Media praised the film saying, "Simultaneously humorous and heartfelt, entertaining and angsty, this action-packed sequel is an exploration of Peter Parker's grief and moving on in a post-Endgame world." Critics alike claimed that FFH was a lighthearted relief from the heavy depth of Endgame.
Although the MCU has been forever altered by the events of Avengers: Endgame, the future of Marvel's universe does not look bleak. At this year's San Diego Comic Con, producer Kevin Fiege unveiled the
MCU's projects spanning till 2021. He further expanded the list at the D23 convention by announcing spinoff TV shows and movies that will be available on the Disney's new streaming service, Disney+. Fans jokingly speculate that the influx of new content comes as a compensation for the loss and unjustified character arcs in Endgame. However, the new content and propositions for the MCU's phase 4 are leaving fans avidly waiting for years to come.
Four out of four stars