Ohio Chemical Disaster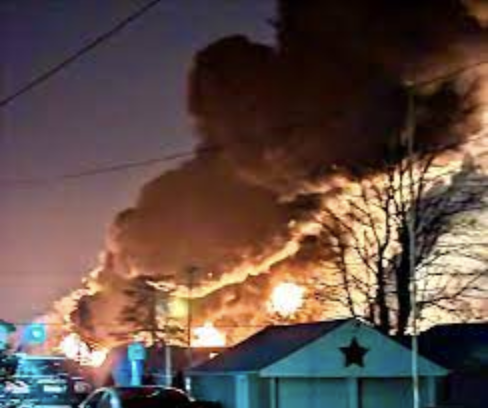 On the evening of February 3rd, 2023, a train traveling through the Ohio village of East Palestine carrying vinyl chloride, a chemical used in plastic production, suddenly derailed. 11 train cars containing millions of gallons of this toxic and cancerous chemical were released into the air and ground. This derailment lit the highly flammable chemicals ablaze, releasing cancer-causing dioxins into the air and soil. The cleanup process began almost immediately, starting with the removal of contaminated soil from underneath the tracks. Some of the spillages were intentionally set ablaze in a controlled burn in an attempt to prevent an explosion but, this only released more dioxins into the air, among other chemicals. Security footage from less than an hour before the disaster showed sparks underneath one of the cars, a possible cause for derailment.
An evacuation order was issued for residents living within a mile radius of the derailment site, and a shelter-in-place order for the entire town. The EPA (Environmental Protection Agency) has been conducting extensive testing in the air, water from nearby streams, and soil for contamination levels. They've deemed both the air and water safe, reporting low toxicity concentrations. However, some residents still developed rashes and nausea after returning home after the evacuation order was lifted two days later. Streams that were directly impacted by the derailment resulted in the death of some 3500 fish. The EPA estimates a cleanup time of three months. 
Though the EPA reports good news, a poll by WTAE shows that 41% of residents had little trust in state officials to handle the incident. The EPA is legally allowed to report low toxicity concentrations to the public, even if actual testing proved otherwise. Some citizens have reported that their water had a newfound odor in the days following the derailment, a possible result of contamination. Luckily, there have been no reported deaths so far, both from the derailment and sickness.
As the extensive cleanup process continues, and trust in government officials remains questionable, the full extent of the damage is yet to be determined as environmental contaminant testing continues. Only time will tell the full impacts of this environmental disaster.