Anonymous meme accounts poke fun at BC on Instagram; owners share inspiration behind posts
Note: in order to preserve the anonymity of the meme page owners, all interviews were conducted through Instagram messaging system. Each meme page will henceforth be referred to be their username unless otherwise noted.
A long time ago in a galaxy far, far away …
In the depths of space floated an object like no other. At that time, there were no words to describe it. It had no definite shape, carried no definite message. It simply existed, unknown to the rest of the universe. Then one day, three BC students, the "OG kings", stumbled upon it. This, according to the current masterminds behind the username, was the start of Brookfield Central's iconic @lancer.memes.
The current account holders inherited the page after its owners graduated in June 2018. "We are forever grateful to the og GODS," they said, "We know some snitches out there are upset about how much content we put out, but we'd rather keep the legendary status and quality over quantity." With 842 followers and a legacy left behind by its previous owners, the page has a reputation to uphold. Following precedent, @lancer.memes makes all of its content itself. Most of the time, inspiration is drawn from current school events and trends. From Radium Girls to the ACT to Boys Basketball State, anytime something noteworthy occurs at BC, a new meme can be expected. @lancer.memes' most recent post: a "NOT CLICKBAIT" identity reveal video clip showing a freshly printed meme and a picture of Mr. Bauer.
As with most meme accounts, the true identities of the people running @lancer.memes remains a mystery, even to the staff at Tyro. Its recent post, despite the implications, does not appeared to have dropped any real hints. For @lancer.memes, however, each meme serves its own purpose. The main objective: to serve the people (students) of BCHS. "We love when people dm us about how our meme page has brightened their day," they stated.
When looking ahead to the next year, @lancer.memes will continued to be passed down from one meme master to another. The two candidate requirements – being able to continue the welcoming spirit of the page and maintain the "secrecy of the brotherhood."
@lancer.memes is not the only meme page floating around school. New this year are several other Instagram meme accounts, each with its own focus. From music (choir, lots of band, NO orchestra) to AP Euro to foreign languages (French, German), Instagram meme pages have become the go-to place for class-based inside jokes. Case in point: "You're a 500 lb canary." This statement took the form of a text message on a @bcchoirmemes' post in March. To fully understand this post, one would have to be a member of women's choir. Still, humor is universal. A good portion of the memes posted on these accounts can be appreciated by all members of BC, regardless of whether or not they were there for the reference. To give a brief rundown, here are some of BC's other most noteworthy meme accounts:
@lancer_band_memes a.k.a. Jason Gillette
Named after BC's favorite band teacher, @lancer_band_memes started out as a meme page for band students, though it later expanded to include outside topics. For the most part, the account's creation was one of individual effort. The creator felt that @lancer.memes wasn't updating as frequently as expected, and they wanted to fill the gap with their own memes. Specifically, memes about band. "I said something along the lines of 'I'm going to make a meme account, but just for band because nobody else deserves memes,' and was instantly told I would never be able to gain popularity. Spurred on by this, I threw together the page," they described. The process began with creating the account, following popular band students, and publishing the first post on November 5, 2018 with a caption that asked viewers to spread the word. The growth in followers started out slow at first and then skyrocketed before tapering off. Currently, @lancer_band_memes sits at 272 followers.
As a band meme account, the creator draws most of their content from what happens in band. Posts occur about once a day. "I also try not to flood content. Instead, I may make a lot of memes at once, and then just sit on them for a few days. I use these as fillers for when there is no class, or when nothing meme-able happens during class," they explained. Mr. Gillette is apparently aware of the first account's existence but has no clue as to who runs it and has yet to reference it in class. By first account, it is meant that @lancer_band_memes is the original and first of many BC band meme accounts. There's @lancer_band_memes_android with pixelated reposts of @lancer_band_memes's posts. There's @lancer_band_memes_australia with upside-down reposts. At one point, there were several other accounts that posted in different languages. And then there is the notorious @lancer_band_memes_flutegang. The account began as an opposition to @lancer_band_memes and its many memes that more or less called out the flute section. The two accounts had a brief meme war, part of which took place in the comment section of a few posts. Since then, the two have set aside their differences, and @lancer_band_memes has moved on to other parts of band and outside topics, including calling out the junior class group chat.
Like @lancer.memes, @lancer_band_memes plans to let its legacy continue on after graduating. The creator gave no specific requirements but did say that they were testing out potential candidates and had about three in mind. Though, as @lancer_band_memes joked, there is always an alternative: "I will also sell the account for the right price because I have a lack of morality and because I could always make another one."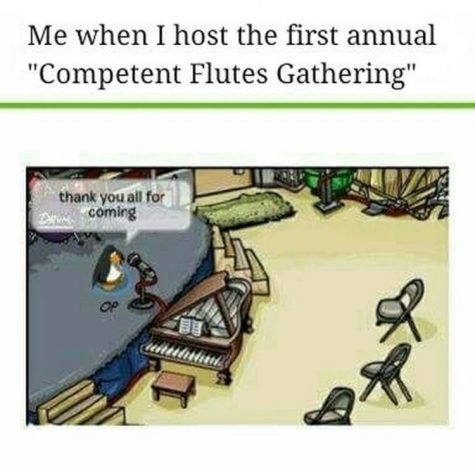 @bcchoirmemes a.k.a. Choir Memes
Like @lancer_band_memes, @bcchoirmemes started up in November 2018 with one account creator. Now, three people run the account. For the most part, choir memes are created by finding meme templates and applying current events to them. Though @bcchoirmemes does not have a favorite meme so far, their work is rewarded whenever Mrs. Hickmann references the account in class. This is a common daily opener to choir, although Mrs. Hickmann is still in the dark on who runs the account. Regardless, @bcchoirmemes is here to stay. For those who want to become moderators in the coming years: be skilled in making memes, and you'll be well on your way.