Brookfield Central's 2023 Track and Field Season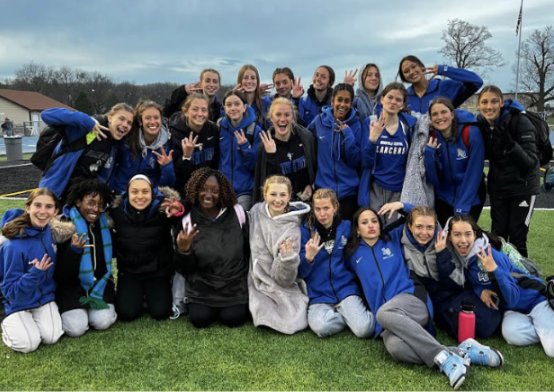 The 2023 track and field season is coming to a close but not without success. The Lancers started the season off with strong indoor performances where sprinters, distance runners, jumpers, pole vaulters, and throwers were able to get in some great practice before heading outside for the outdoor season in April. With the beginning of outdoor meets, athletes were only able to improve upon their times, heights, and distances. 
The Lancers especially saw success at their Varsity Home Invite on April 28th where both boys and girls placed 5th overall. Great performances were seen from Clare Marchant in the 100 hurdles, taking home first place and second place in the 300 hurdles; Caroline Swanson breaking 6 minutes in the girl's mile, winning her heat; Owen England running an impressive 4:48 in the boy's mile; and Emily Summers with a 4th place finish and time of 1:04.13 in the girls 400 meter. The highlight of the night was the boys' 4×400 relay team composed of Frank Weidmeyer, Rece Hopfensperger, Thomas Bergin, and Yamato Tokuda which brought home a well-deserved win to cap off a long night of competition. 
Girls also had a successful meet at the GMC Relays where each event is scored as a relay. Girls pole vault's heights added up to 24'6" which made for a third-place finish in the event. The girls' 1600-meter relay and 300-meter hurdle relay placed second and the Lancers tied for third place overall. 
As the season is wrapping up, athletes are only training harder to earn their spot at state on June 2nd and 3rd. Athletes are reaching their top performances as conference, sectional, and regional meets approach. Hopefuls for this year's state championship include Clare Marchant in the 100 and 300 hurdles and the 400-meter dash, Jay Forney in the high jump, Keagan Knue in the 3200-meter run, Melissa Keane in pole vault, and Emily Summers in the 400-meter dash. Thanks to the coaches and the athletes' dedication it has made for a fun and successful track and field season.